Let's review the best football boots of 2022. Perhaps we all are on the same page when we talk about the awesomeness of football shoes. Throughout history, we have come across a variety of football boots with excellent qualities. While some companies make lightweight and springy shoes, others make their shoes focusing on trendy designs and colours. Having all those equally impressive kicks coming at you so fast, it is always a tough job to keep pace with the latest. And it gets tougher when it comes to buying a pair. But worry not! We got you! Help yourself to look at the hierarchy of the best football boots in 2021 that we have structured for you to help you with your shopping.
According to our list, Nike Mercurial Vapor is our number one pick for football boots this year. Although it might surprise some, it is unquestionably a fantastic looking boot with some amazing features. The boot has gone through some improvements to come to this latest model, making it a perfect choice for the bold, spirited and speed freaks.
Many argue that the Vapor 13 Elite is similar to the Superfly 7 and as a matter of fact, there is not much variation between them. So, it wouldn't be a blow if someone prefers the Superfly 7 to the Vapor 13 Elite. Surely, both are eligible for the number one spot.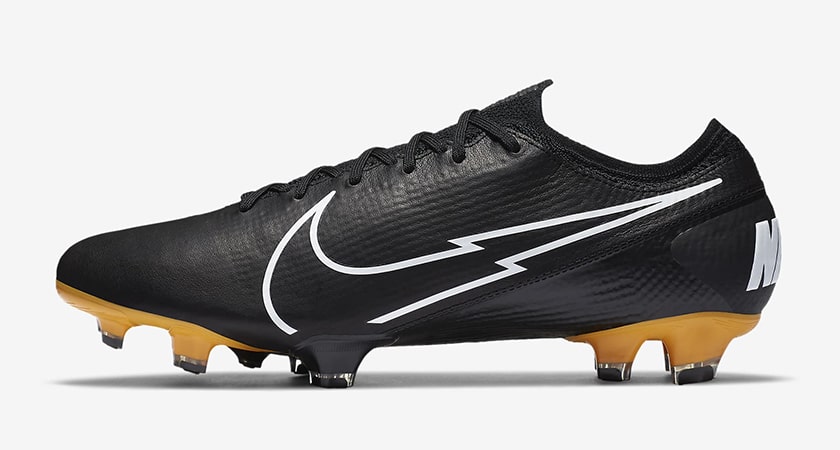 Let's discuss its pros and cons.
PROS:
The boot is one of the most modernised football boots out there right now. The technology that has been used in this boot is out of the world. No wonder, it is a favourite to world-class players like Neymar and Eden Hazard. 

The implementation of the updated 360 Flyknit ensures the top's smoothness, lightness and responsiveness. In this boot, one can get the best shoeless tactile sense for sure.

Besides the softness, the top of the Vapor 13 Elite is also more solid and firm compared to its previous versions. 

The boot has Aerow Trac zones engineered on the soleplate for greater traction and increase of velocity. 

Its advanced ACC or All Conditions Control technology makes it wearable for every condition.

The boot offers one of the most predominant lockdowns and it takes minimum time and effort to wear it.
CONS:
There are not many negative points about the boot to mention here. However, one is that it may cause slight discomfort to the people with wide feet.

Another is its expensiveness. But, not to mention, every first-rated product comes at a high price. 
After a long interval, Adidas finally pleases their fans with this Predator 20.1. This conventional football boot featuring some outstanding traits is able to amaze everyone, especially the lovers of classics.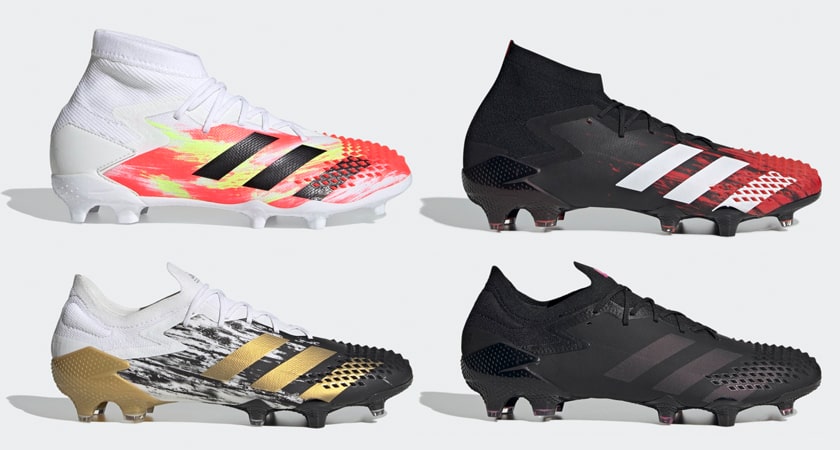 Let's talk about its pros and cons.
PROS:
The boot offers an excellent tactile sense and its rubber components intensify the spinning and movement. In a pair of these, you will surely be a threat to opponents on the playground. 

Although you can settle upon the laceless version, the laced one is obviously better with a finer lockdown, which guarantees extra comforts.

The "Mutator" variant with the OG colourway can make you relive the golden ages of football, the likes of Beckham, Zidane and Del Piero.

The DEMONSKIN top of this boot Predator 20.1 makes it special and incomparable with the rest of the sports shoes of this sort. 

The boot's spikes are fixed in such a praiseworthy manner so that the performance becomes great.

As its name suggests, in a pair of these kick, you will come off as a Predator on all occasions, including passing, shooting and dribbling.

You cannot but praise the softness and overall comfort level of the boot. So, once you try them on, you won't feel like putting them off. 
CONS:
Sad to say, the boot is very pricey. The price tag is obviously disturbing for budget-conscious customers.

The high collar could be problematic at times, though the low-cut models can be a solution to this problem. Not to mention, both of them are equally worth bagging.

It is so new in every way that one could feel a bit awkward on the first try. But in the end, it will be all okay.
Adidas Copa 19+, in the views of many, is the best laceless football boot in the world in this day and age. Currently, it is also considered to be the best leather football boot out there for purchase. Just like its look, it is exceptionally suited to players playing on various grounds.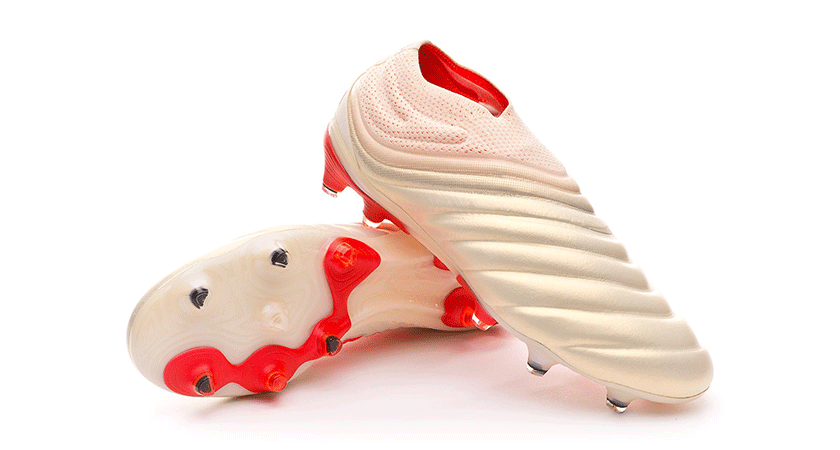 Let's discuss its pros and cons.
PROS:
Probably the most crucial feature of this boot is that it is not laced. Despite being laceless, it provides quite an effective lockdown. 

Wrapped around by quality leather, it features a pretty strong upper which is well connected to the Primeknit collar. The boot also embodies one of the best silhouettes in the world.

Thanks to the utilisation of superior inner foam pads and other cushioning, the Copa 19+ is amazingly comfy. 

Since the Copa 19+ is no longer the latest version, after the launch of the Copa 20+, a buyer can enjoy a healthy discount. However, if you settle on buying a pair in one of its latest available colours, the price is likely to be matched.

Last but not the least, like other quality football boots, Adidas Copa 19+ rewards an excellent level of touch and feel.
CONS:

The only mentionable fault of this boot is that it is not wear-friendly. Meaning, it can take some time to put your feet into a pair of these boots.
In confrontations against Puma's the King and Adidas's the Copa Mundial, the Premier is Nike's prime candidate. This boot is crafted employing premium leather materials, each serving its purpose to make it a legendary leather football boot. It is potentially the leader of all leather football boots out there at the moment in time. And, as far as the price is concerned, it is exceptionally cheaper than the other football boots of this kind. 

Let's have a look at its pros and cons.
PROS:
Without a doubt, the most notable highlight of this football boot is its cost-effectiveness. Although it is reasonably priced, no compromise has been made with its quality. Verily, it is widely accepted as one of the world's strongest and long-lasting kicks.

The upper boot is practically soft and flexible and at the same time, firm enough to ensure durability. 

The design of the Premier II is exclusively classic, clearly dedicated to the lovers of simplicity. 

Its superior kangaroo leather eases fitness, guards your feet and grants a dignified tactility.

Just like the New Balance Tekela, Nike's Premier II is uncommon among the football players. So, if you fancy being divergent, this astonishing boot is for you. 
CONS:
Despite being modern, this particular model does not feature the technology as the people of this era expect.

Similar to various leather football boots out there, the time to wear the Premier II, to a limited degree, is long. 

The boot's protection against the water is not impressive. So, be ready if it rains; it is going to be an unpleasant experience.
 Mizuno Morelia Neo II is the name of a football boot that excels at the standard level of lightweight. It is also one of the most remarkable speedy leather boots out there. Still, it is really unfortunate and shocking that the boot has less popularity in the football world.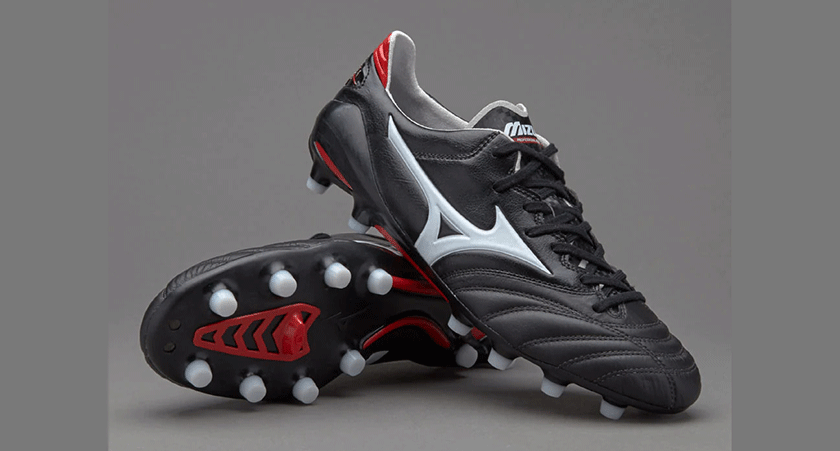 Let's discuss its pros and cons.
PROS:
The boot is extremely lightweight, weighing around 180 grams. So, in a pair of these shoes, you will get a floaty feeling for sure.

Thanks to its kangaroo leather of the finest quality, the football boot is super comfortable and durable.

The Morelia Neo II has an impressive lockdown, offering complete protection and stability. 

On all occasions including passing, shooting and dribbling, the Morelia Neo II is supreme in comparison with the other similar kind of football shoes.
CONS:
The Lack of innovative technology and design is quite visible in these football boots.

While wearing them for the first time, these boots predictably take some time. However, the wear-in time reduces after a couple of puts on.
Puma One 5.1 is exactly the one that everyone desires to have. Perfect in every way, this football boot is in great demand at the professional level. Although it is arguably replaceable by the ONE 20.1, Puma One 5.1 is more excelling and about that, there is no doubt.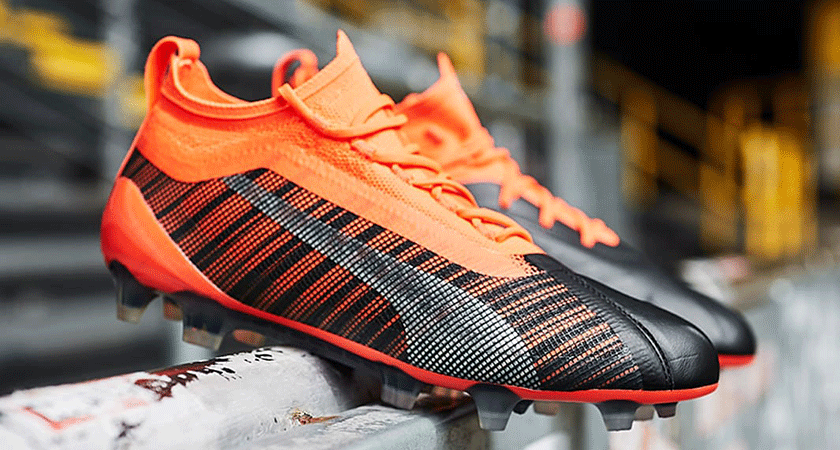 Let's have a look at its pros and cons.
PROS:
This is an all-rounder football boot, offering almost everything including style, pace, comfort and touch. 

Fashioned out of splendid k-leather, the Puma ONE accouches an immensely satisfying touch, control and striking of the ball. 

The light evoKNIT encompassing the collar and laces maintains a somewhat lower collar and conceals everything systematically nice and cosy. 

All the three materials such as leather, synthetics and knit have been utilized by Puma in manufacturing this particular boot. Although it can be a deadly combination in most cases, Puma has done an excellent job here.
CONS:
It is true that the Puma ONE features all the good qualities of a football boot, but it fails at delivering the better versions of those qualities. So, if you want something faster, something better looking, or something more comfortable, obviously there are many alternatives available for you. 

The lockdown of the boot is below the satisfactory level. Many other boots offer far better lockdown than this one.
Explicitly speaking, this football boot is truly a legend, offering touch and comfort that seem to be something otherworldly. Up until now, the Nike Tiempo is also regarded as one of the most robust design boots on the market. Some may speak ill about it, but, indeed, this Nike Tiempo is a fresh one, completely different from the previous versions. 

Let's discuss its pros and cons.
PROS:

The Tiempo is heavenly comfortable. So, if you are going for a pair of these football boots, be sure that they will be worth every penny. 

This is an excellent looking football boot with a diamond-like design and an iconic blue Swoosh. For a fashion lover, it must be the prime pick. 

Crafted from a combination of leather and knit, this modern football boot has a classy k-leather and Quadfit mesh on top for securing accurate fitting and resisting tearing. 

There are no stitches on the light one-piece leather upper, delivering touching along with passing and striking of the ball really amazing.

CONS:

The comfortable level of the boot is not sufficiently great. In this department, it couldn't even meet the standard of its earlier versions.

All its latest features may distinguish it from the other Tiempos and grant you some sort of a feeling of uniqueness, but that feeling is certainly not powerful enough. Something stronger is expected. 

The Puma Ultra, as its name implies, is really ultra fast. This colourful speed boot is also celebrated for its airiness. It should be the ultimate choice for someone who is looking for a football boot that is super fast and at the same time, super light.
Let's talk about its pros and cons.
PROS:
The most prominent feature of this football boot is speed. It is undoubtedly one of the fastest football boots in the world.

Weighing about 160g, the Puma Ultra feels so feathery.

The advanced MATRYXEVO woven keeps the upper solid and rigid, which are needed for fiery actions.

The induction of some of the newest features makes everyone acknowledge it as Puma's most innovative speed boot.

For a standard speed boot, it is surprisingly loose. That makes it easier for people with extensive feet to wear. Notably, the Puma Ultra is recognised as the quickest wide boot in the shops at present.

Except for the players with narrow feet, the Nano Grip sock liner of the Puma Ultra grants excellent grip, lockdown and stability.
CONS:
Due to its looseness, this particular football boot is not ideal for players who have narrow feet.

Compared to the other football speed boots up for grabs, the Puma Ultra is not as softer as expected. 
For speed fans, the Adidas X has always been the perfect pick; and now, with an updated version, the football boot is getting popularity among various sorts of players. Keeping speed as its main feature, several colours have been added to this latest model.

Let's discuss its pros and cons.
PROS:
With the ultra-thin Speedmesh upper, this is a fantastic speed boot, specially made for speedsters like Mo Salah and Gareth Bale.

Unlike several other lightweight football boots out there, this one is strangely enough padded. There is a boatload of padding in the toe box and heel, which provides sufficient warmth to your feet. 

Since it is not laceless like the earlier generations, the Adidas X 19.1 offers more solid lockdown and responsiveness than the others.

The avant-garde Speedframe outsole of the football boot grants you an incredible grip on the playing field, which is very important for anyone who moves fast. 
 CONS:
Great features come with great money. This football boot is pretty expensive. Therefore, if you desire to save some money, you can always go back to its older versions. 

Since the focus has been on padding and control, the boot might not be productive in speeding like the other traditional speed boots.
10.

Puma Future 5.1 FG/AG
Puma is one of those brands, which always look to improve the quality of their productions. Therefore, they continuously make changes to their original footwears. Puma Future 5.1 is such an example. This latest athletic shoe is the third version of it in the span of the last year or so. Its earlier releases were 19.1 and 4.1 back in 2019. Although some might criticize it for its priciness, there is no denying that this newest variant has appeared with some really cool enhancements.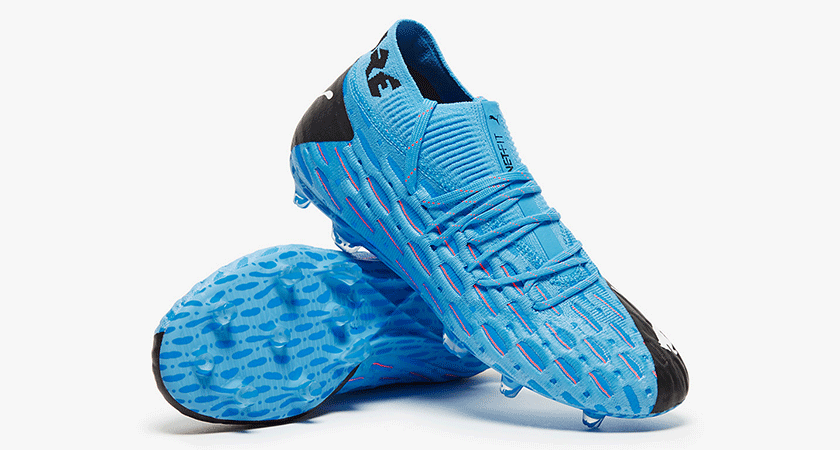 Let's discuss its pros and cons.
PROS:
The Puma Future 5.1 must be among the best sports shoes in the world at present. It is so comfortable that if you put them on, you will not think of putting them off. 

Its comfort level has been enhanced by the advanced NETFIT lacing system, which also makes the fit and lockdown reasonably solid for all types of feet. 

With a sticky GripControl Pro layer being affixed to the key contact zones, touching and controlling of the football have become more excelling than ever. 

The boot is user friendly for various kind of surfaces. So, for a player of both firm and artificial ground, it is undoubtedly a perfect selection. 
CONS:
This aerodynamic football boot can be proven oversized for someone with comparatively smaller feet.

Although the inventive NETFIT lacing system is admirable, this latest version does not provide options as its previously released ones.

The overall design and appearance of this boot are not highly likeable. However, who knows? Puma can come up with some alterations very soon. 
---